Construction on this table commenced on October 8, 2002.
The track crossing the bridge will split with the left track running under the city of Hye and into a two track passenger terminal. The right track will both circle to the pull-thru freight yard and run down to the coal mining valley that will form a reverse loop.
Valley loop and 2/3 of grade 10-18-02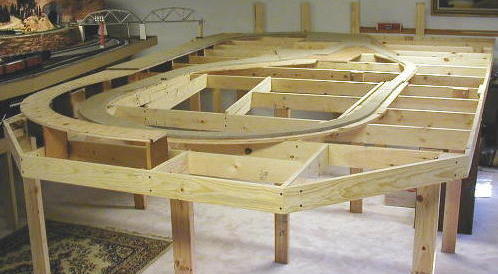 All of the plywood for the upper level track and most of the homasote was cut and laid on the valley frame prior to adding the upper level risers below.
Upper level track framing 11-2-02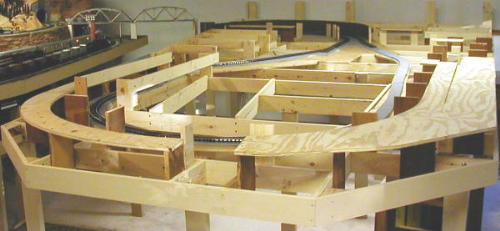 Track plywood and homasote complete11-20-02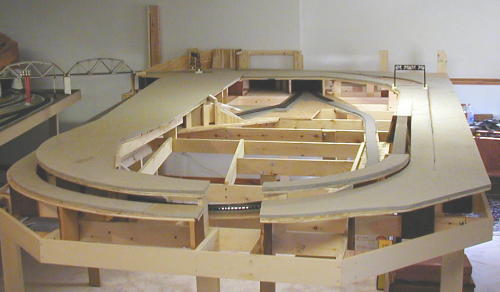 Gorge painted by Sandi 12-12-02
Two Pioneer Valley backdrops are used. Each backdrop is two 2 x 3 sheets, for a total of 12 feet. Some detail was added where each backdrop center meets and the sky (not blotchy like photos) was painted to blend in with the walls and the gorge painting. The apartment building to the right bends around a corner in the wall.
After working almost every day for 3 1/3 months, on 01-17-03, trains are run thru the passenger terminal and around the valley loop. Tracks still have to be laid for the freight yard.
Computer printed mock-ups were constructed for some buildings in front of the backdrop.
Scroll for full view

Passenger Terminal Lower Level Ceiling Lights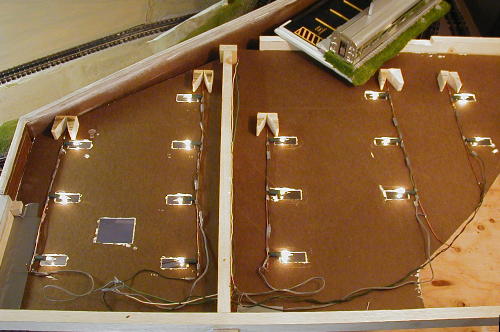 The aisle behind the gorge backdrop provides access to the circuit breaker box. For access other than ducking under, the truss bridge track has pins in one end and is removed by lifting up 1/2 inch, then sliding it out. The bridge can then be lifted off. The backdrop is painted on a hinged 1/8 masonite panel which swings open.
Hinged gorge backdrop open and truss track removed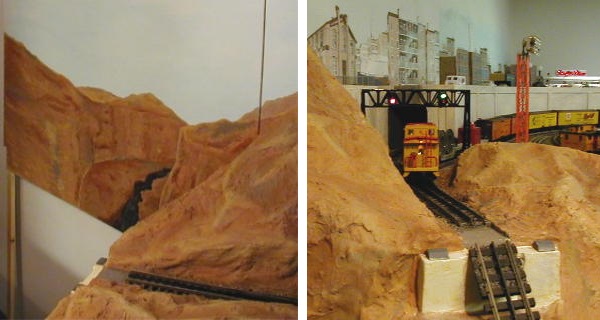 Trap Door With Four Houses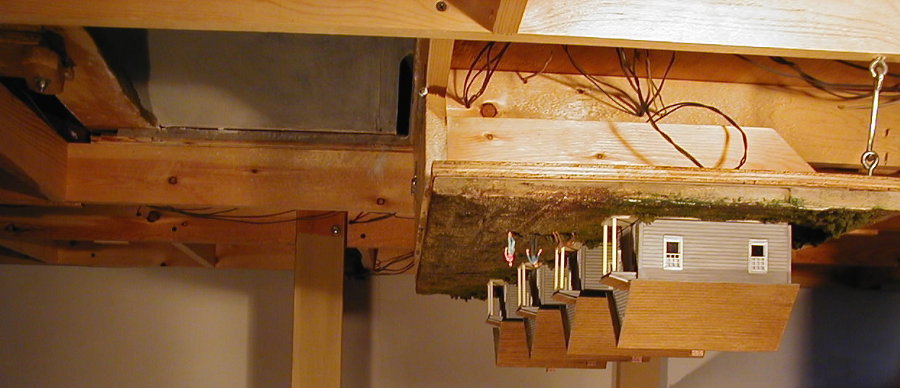 Latch For Trap Door With Houses